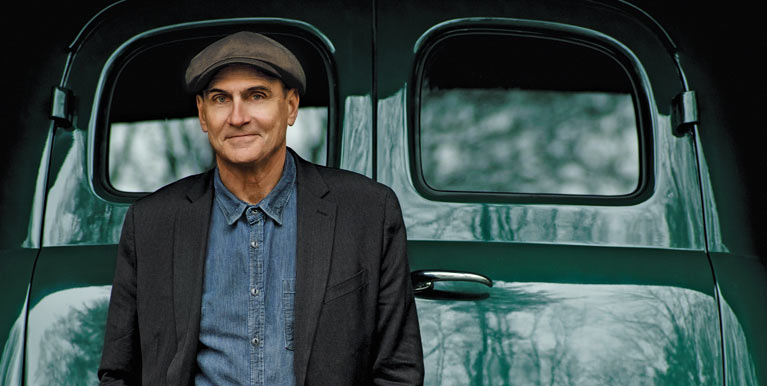 Mail For James
How to get a signed item by me in the time of COVID
I am happy to sign up to 4 items that you can send to the address below.
It may take some weeks (or months if we consider touring) but I will get them
back to you.
Please follow the guidelines below and please only send the type of items listed.
We will send back to you, unsigned, any items over 4 or any type of items not included
in the list below.
– James Taylor
GUIDELINES (note guidelines are subject to change at any time without notice:
This business card has a handwritten code (a combination of letters/numbers). Please send the original of this card with your 4 items to the address below. The number is non transferable and will be tracked by James's team so please do not share with others. Only items associated with your code will be signed by James.
Send us an email with all info. Before your items can be signed and returned we will need:

your name, email address, code number from the business card you received, tracking number of your package and a list items with descriptions you are sending (see #5 below for acceptable items to have signed).

Please send this information to [email protected] in an email before sending your items.

Please include a return label with your name and address and phone number.
Please do not send cash.
Please do not send guitars or pick guards or blank cards, posters or blank paper: these cannot be signed. See #5 for acceptable items.
You can send: photographs, Cd covers, LP covers, first day issue stamped envelopes. Please do NOT include actual cds and LPs just the covers.
Please do NOT send any items not listed in #5.
All items sent will be personalized by James to the name of someone you would like. If no name is submitted for an item, James will sign all items to your name.
Items will be signed and returned to you as soon as physically possible. Please be patient the process could take some weeks or months after the tour but they will be returned.
James's staff cannot take responsibility for lost or damaged items in the shipping and packaging process therefore please do not send items to this address that have sentimental value or are irreplaceable.
Here is the address where your 4 items can be sent.
YOU MUST INCLUDE THE ORIGINAL BUSINESS CARD YOU WERE GIVEN BY JT OR HIS TEAM WITH YOUR ITEMS:
JT Fan Mail
180 Elm St, Suite I #236
Pittsfield, MA 01201